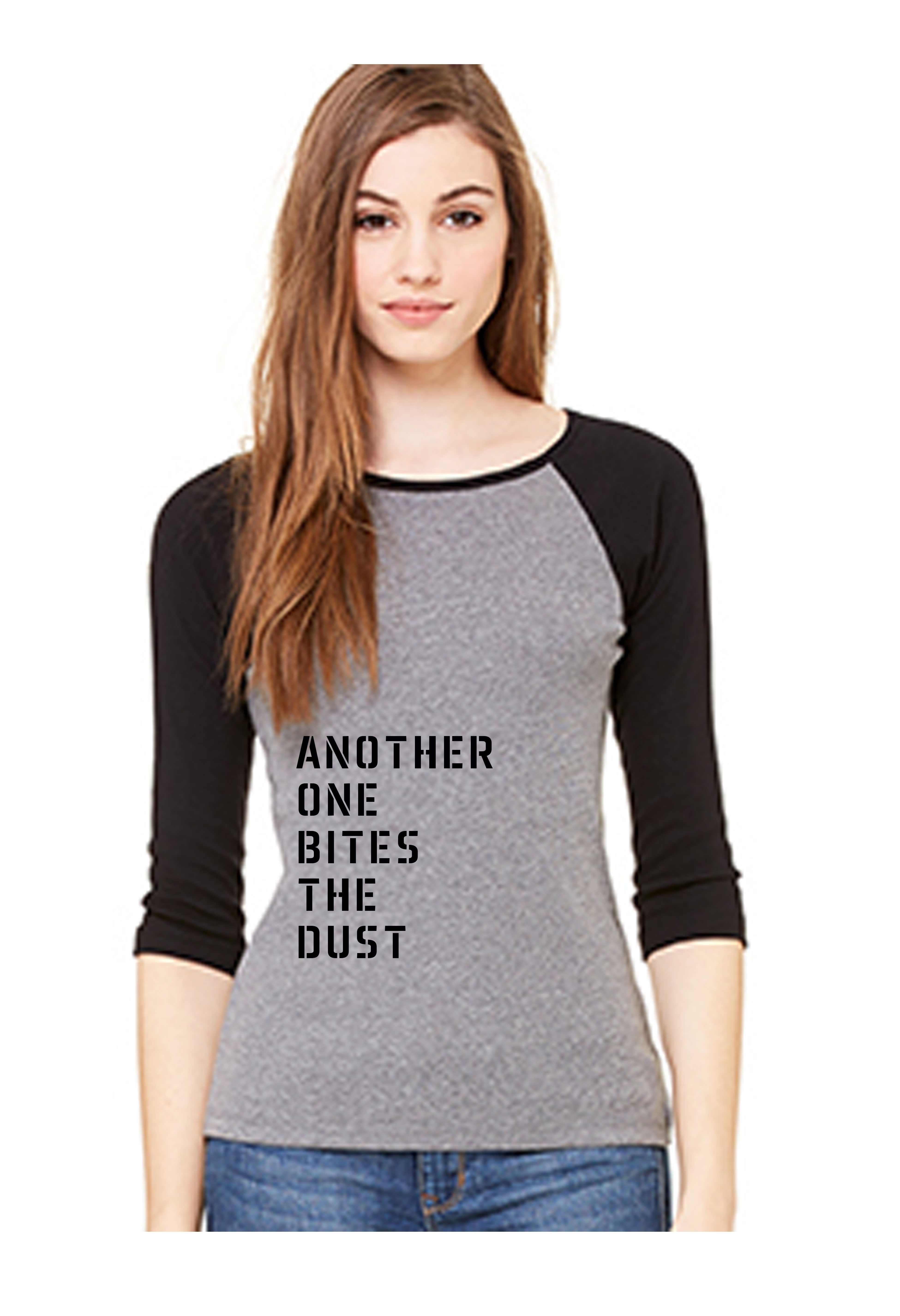 My Take On Senator Jeff Flake Confrontation In Elevator
Four Positive Things To Takeaway on the Senator Jeff Flake Confrontation
Hi, my name is April Kirkwood.
I am an author and a Mental 

Health Counselor, Aka a therapist with a new book out, Working M

y Way Back to Me, about my personal adventures through 

early childhood trauma.
Talking about trauma
Have you ever been in an elevator and everybody puts their head down and no one says anything.Well, I gotta Tell You, I'm sure you've heard about the whole Kavanaugh mess and how senator Flake was kind of barricaded in the elevator by two brave women. I want to publicly commend you both right now. They took a vital step for all of us by talking about their own sexual harassment and rape issue. They  spoke for women everywhere .
But you know, thinking about that. I watched it over and over again and I thought there's a lot positive coming out of this. I mean, yes, it's crazy. Yes, It's kind of embarrassing for our country. Yes, it's a mess.  And watching it is just so emotional and thought provoking, but I think we
can get a lot out of this.  In fact, to enlarge it to many experiences in our lives,   I think we can get a lot  if we just turn and look at it from another perspective.
So today we're going to talk about four great things that you,
yourself can take away from this entire Supreme Court nomination fiasco.
1 : Never be afraid of your truth. 
In my book, Working My Way Back To Me, I talk about my family's drug addiction, molestation, adultery affairs, and I was a little afraid but I needed to tell my story to share it with others to make a change.
What is your story?
What are your secrets?
Bring them out of the basement, out of the closet. Come out and talk about them because there  are people out there that need to know your story.
2 :  Be Open Minded
Get out of your glass house everybody else because every roof has a leak. Support people: Men, women, children. As a guidance counselor, when some kid comes in and tells me a story, I don't poo poo it and say it didn't happen like that. Oh, that's probably not the case.  If somebody comes to you and bears their soul, like these two women did with the Senator and God bless him, you could tell he was deeply affected. Open up the shutters. Have your eyes open up the eyes of your heart, open up your ears and listen.
Please listen.
We need to support each other.
We need to tell our truth!
 3:  Women are ageless in their power
You are a wealth of wisdom. Men and women of any age have so much to contribute. I don't care how old  they are.  They knew what life is about. They are  seasoned in life and that's not something that you can get when you're 14, 15, 16, 17, 18, 20. If I knew at 25, at 30 what I knew now, and if someone would have reached out to me and if I was willing to listen, my life would have taken a completely different turn, not to mention my children or my career and everybody else. There is no age limit anymore. You don't have to be a grantee sitting on the porch waiting to kick the bucket.
4 :  There are wonderful men in the world trying to do what is right.
Look at that senator from Arizona. I love him. You could see the emotion as the women shared their thoughts. He wasn't closed down. He wasn't rude. He didn't slam the door on them. He didn't call off all of his security and guards. He listened.
We need more of that, don't you agree?
"Men stand up. We need you. Women need you. Children need you. I need you be therole model. I thank you, Senator Flake. I thank you Brave woman. There's good in everything and there's good in you."
When fear creeps just tell fear.
"Thank you. Fear for pointing that out, but I don't need fear in my life. Take fear and throw it out the window."
---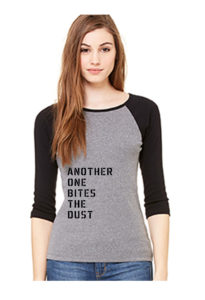 Another One Bites The Dust Tour Tee!
It has the knock 'em down tour,  I just love this tee shirt! The back of the shirt has the names of those men who have been part of the #MeToo findings with the dates the scandal came out.  They come in a variety of styles and sizes. A portion of proceeds go to a homeless shelter.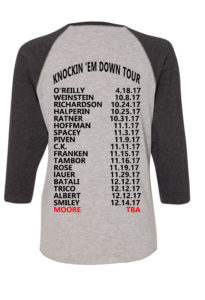 FYI:  Support Women everywhere with showing your support with the TEE Shirt,  "Knock them down. Another one bites the dust."
Get it right here.
Thank you so much. The world is a good place!
We are making changes. 
Our voice is being heard and men are listening.
Spread the news by:
✵Subscribing to my YouTube channel.
✵ Check out Aprilkirkwood.com
✵Subscribe to the newsletter!
In my newsletter I talk about more spiritual things that aren't going to scare everybody
[BTEN id="5461″]
SaveSave
SaveSave
SaveSave
SaveSave
SaveSave
SaveSave
SaveSave
SaveSaveSaveSave
SaveSave
SaveSave
SaveSave
Please follow and like us: