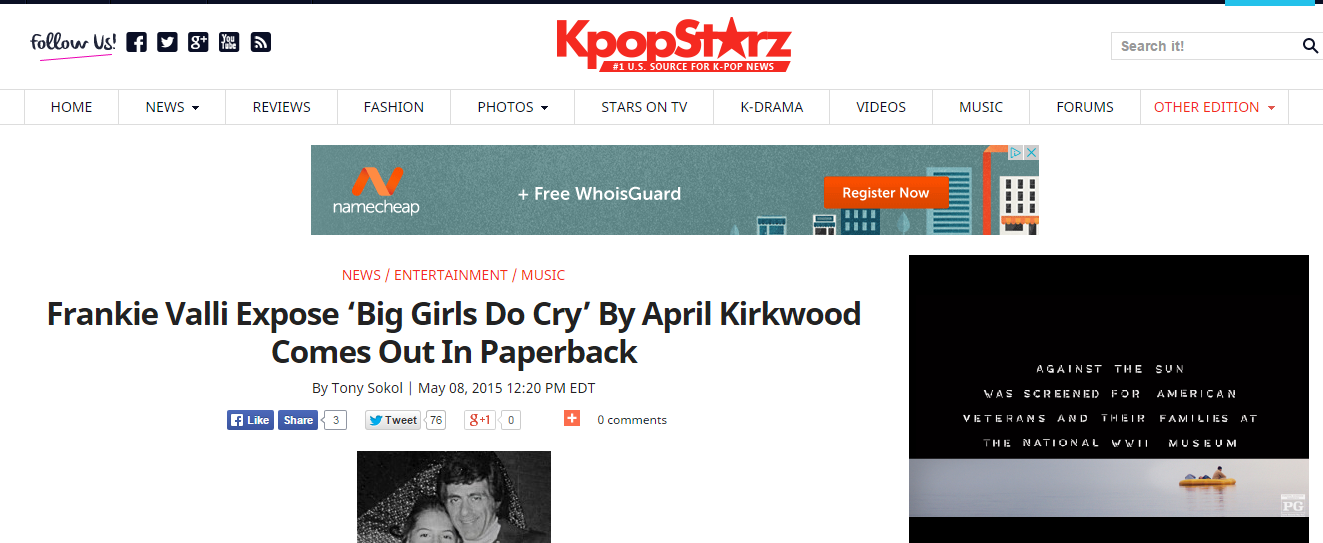 Frankie Valli Expose 'Big Girls Do Cry' By April Kirkwood Comes Out In Paperback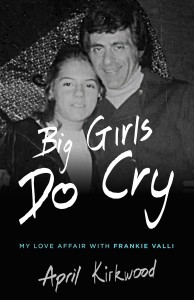 Frankie Valli and the Four Season were back on the charts, the movie charts, last year when the Broadway stage play "Jersey Boys" was brought to the screen by acclaimed director Clint Eastwood. The film charted the rise of four kids from Newark as they made music and trouble in almost equal number. The band owed bookies, gangsters and producers, but they enjoyed success.
The sixties were a fun time for rock groups on the road and The Four Seasons were no different than any other band that blew through town. "Big Girls Do Cry," a new paperback by April Kirkwood tells the story of one woman's long and torrid affair with the "Walk Like A Man" singer, Frankie Valli. The book comes out in all formats and editions on August 3, 2015.
"In the tradition of scandalous tell-all's by rock groupie loyalty like Bebe Buell, Pamela des Barres, and Pattie Floyd comes a feisty and fun new voice: April Kirkwood," reads the official website. "Our intrepid narrator is a sassy blonde Ohioan, a fun-loving flirt with a love of music and Italian men. And she has one of the craziest stories in Four Seasons history."
April Kirkwood claims she was 16 years old when she met the frontman for the Four Seasons in Ohio. Kirkwood says Frankie Valli lured her to a Holiday Inn in Belmont, Ohio, and "deflowered" her.
"An innocent childhood friendship with one of music's biggest stars led to a scandalous teenage romance, which soon blossomed into a stormy off-and-on affair for the next few decades," her website reads. "Yet through thick and thin, Kirkwood managed to find time to have a rollercoaster love life that you won't soon forget."
April Kirkwood, aka April Kay, M.Ed., deals with people who have undergone trauma on a regular basis as a love coach and a radio host on her hotline "The Voice of Love with April K." She graduated Youngstown State University with two master's degrees in education in both school and community counseling. She currently does "workshops and presentations about romantic love and intimacy."
April helps people remove imprinting, which is when things are learned, usually as a form of conditioned response, at young age and imprinted on a person's choices for the rest of their lives. Such imprinting affects sexual choices and has been called the root cause of most sexual fetishes. April hopes to help people "learnmore about healthy love."
April is currently working a workbook for "those who are also stuck with recurring unsatisfactory intimate relationships and steps to remove the imprinting and blocks so they can find the love they deserve."
Kirkwood lives in Florida and Ohio and spends most of her time writing, sharing her story with others, helping women, and is a public speaker.
Story: http://www.kpopstarz.com/articles/199569/20150508/frankie-valli-the-four-seasons-jersey-boys.htm
Please follow and like us: