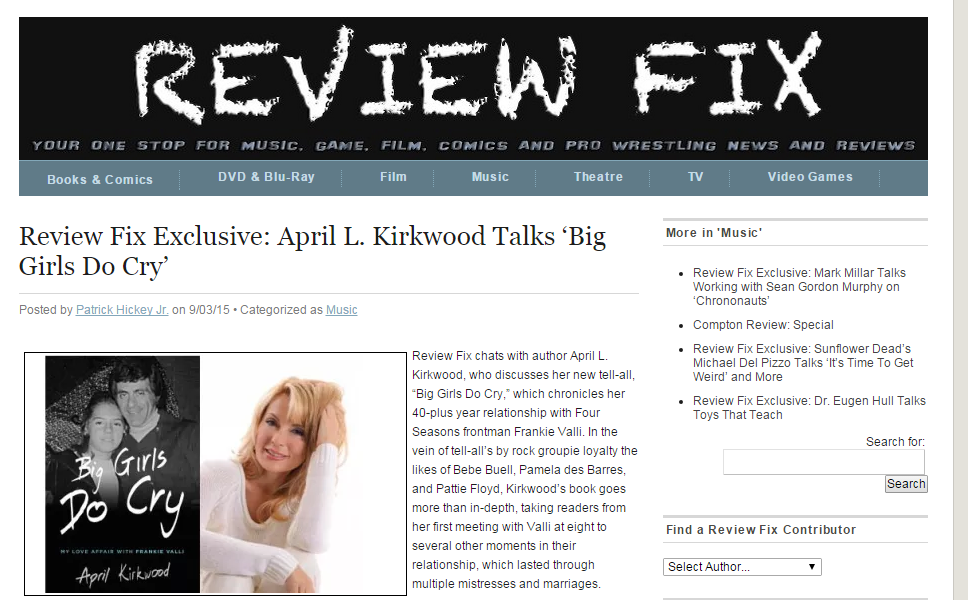 April Kirkwood Does Exclusive Interview on ReviewFix Opening Up About Her Recent Book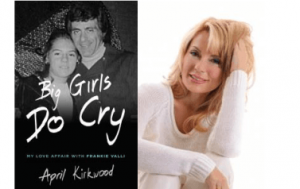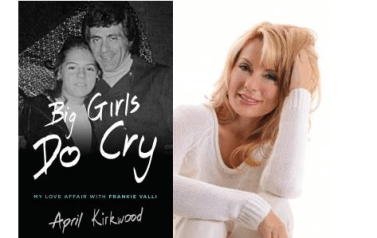 Review Fix chats with author April L. Kirkwood, who discusses her new tell-all, "Big Girls Do Cry," which chronicles her 40-plus year relationship with Four Seasons frontman Frankie Valli. In the vein of tell-all's by rock groupie loyalty the likes of Bebe Buell, Pamela des Barres, and Pattie Floyd, Kirkwood's book goes more than in-depth, taking readers from her first meeting with Valli at eight to several other moments in their relationship, which lasted through multiple mistresses and marriages.
Review Fix: What was the writing process for this book?
April L. Kirkwood: After I saw the Broadway show, Jersey Boys, crying my eyes out the entire way through watching my daughter in shock because she already knew the story, I began to realize how very much I was a background part of this story, at least from my perspective. Life is all about perspective isn't it! I then mentally began to slowly piece together circumstances of my present life that connected me to this ongoing secret passion. A love of sorts that I had pretended to have transcended years ago. I discovered just how many lies I told to myself and others. I grew sad with this understanding and had what many would describe as a mental break down. I, on the other hand, proudly label it as my personal mental awakening. During those months, I wrote everything and anything that poured out of me. It eventually transformed into a very small essay of sorts and thought a local magazine may be interested in it. Those who read it responded, " Honey, You've got a story." Write, write, write." The rest is history.
Review Fix: What originally attracted you to the music of The Four Seasons and Frankie Valli?
Kirkwood: At the age of six years old, I fell in love with Frankie Valli. End of story or so I thought. But, I admit, the entire thing is weird and defies logical explanation. I'm from a blue-collar family in the woods of a mid west town in Ohio with no connections to anyone in show business. The only possible answer that this illogical meeting is Frankie Valli is part of my destiny. Confirmations are everywhere when we are ready. Someone read my palm recently. She said I fell for someone as a young person and no one else would ever come close to those feelings. No comment.
Review Fix: How has your relationship with Valli affected your life positively?
Kirkwood: I am today in part due to the great advice Frankie always gave me after we were intimate. Each time, his role would switch to that of loving father and I was his obedient child. Some of his wisdom included but was not limited to these phrases: "Just because we did it, don't have sex with other guys." "Always keep yourself up; men don't like it when a woman lets herself go." "Never do drugs." I respected him. I believed him. I followed his advice.
Review Fix: Why do you think you stayed a part of Mr. Valli's life for so long?
Kirkwood: I believe we both felt that we grew up together going through the ups and downs of life and that knowing allowed us to continue a kindred type of relationship. I believe he knew how much I cared for him and that softened his heart a bit. I believe as a little girl I probably reminded him of his little girls. I believe this was part of my life's lesson and he and I agreed to join together in this experience on some other level before we were both born into these bodies for learning. PS The Kabbalah states that equal amounts of light attract equal amounts of denseness. No comment.
Review Fix: You're such a proponent of love, despite all that's happened to you. Why?
Read more of the interview by Clicking Here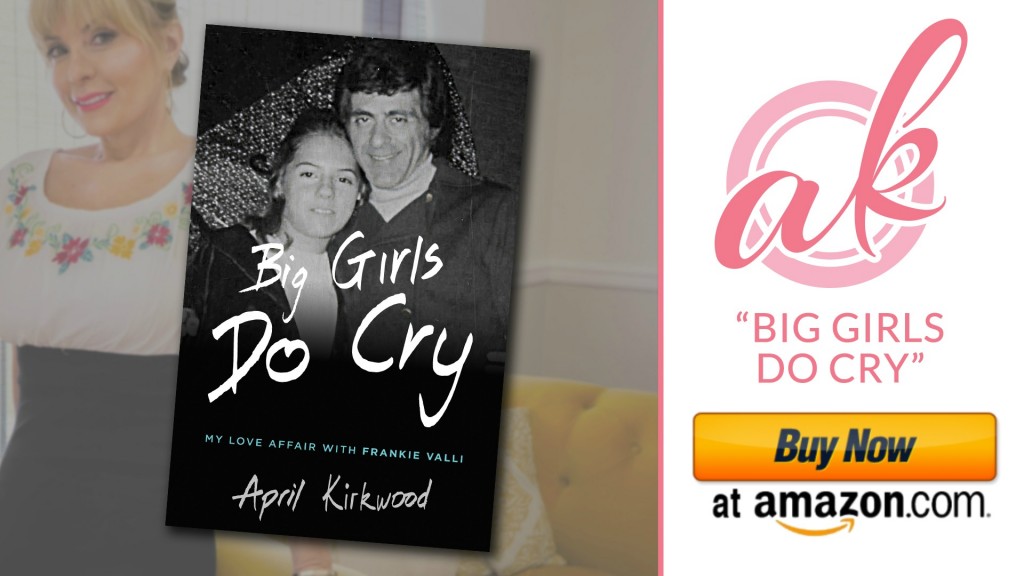 Please follow and like us: