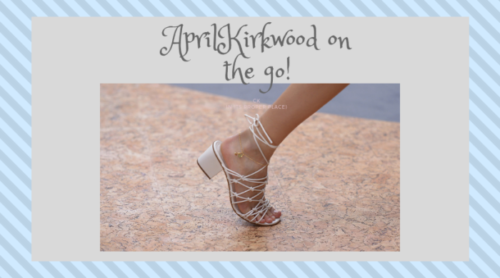 Where Is April!
Where Is April?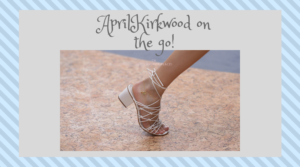 April on the Go!
Fall 2018

 
Schedule updates weekly!
Chicago here she comes!
Friday, November 2, 2018 7-10 pmPrivate Book Launch PartyApril Kirkwood's Working My Way Back to You and Donald G. Evans's An Off-White Christmas
Hosted by: Kelly Morgan
Appetizers, drinks, and stories from 7-10 p.m.
Tuesday, September 18, 4 pm EST Interview with James Lowe, Host of "The Voice of the People" Syndicated to 28 stations.

Thursday, September 20, Rachel's Restaurant, 6-8 pm. Working My Way Back To Me, Book Launch.  Seating limited.  RSVP:  aprilofcourse@gmail.com

Wednesday, September 26, 6 pm interview with Ken Brown, Host of "Hey Neighbor, KSVY 91.3 FM, Sonoma Valley, CA
About The Author
April Kirkwood, LPC is a vetted therapist, published author, and TedX speaker providing innovative methods untiling Eastern and Western practices with researched based counseling theories. Her one of a kind content is creating a movement that wakes up others from their drab sleep state to a new awareness and vitality for seeing their story with joy and gratitude. She is an advocate for others who have been affected by early childhood exposing its effect on adult romance. Her philosophy and treatment is a refreshing blend identifying the mind, soul, and body connection through practices of awareness, awakening and play therapy. Her podcast, The April Kirkwood Show 'Soulfully Yours', is on Stitcher, Itunes, and SoundCloud, and Buzzsprout debuts July 2019. The inspirational handbook, The Guide to Living in the Now can be purchased at www.AYRIAL.com. Her memoir, Working My Way Back To Me, is an inspirational tale that sheds light on universal struggles involving love, sexuality, addiction, and mental health. April's reckoning with an emotionally destructive relationship that harkens to her early childhood, and the women pushing and pulling behind her gives insight to others about their lives. It is a story in which April refuses to see herself as a victim but instead tries to summon the courage and resilience to reinvent herself. She works with TedX and her topic, The Brutal Reality of Believing Your Own Fake News shares how to break free from the lies we tell ourselves that create lives of that are unfulfilling.