Where Is April?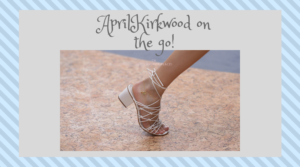 April on the Go!
Fall 2018

 
Schedule updates weekly!
Chicago here she comes!
Friday, November 2, 2018 7-10 pmPrivate Book Launch PartyApril Kirkwood's Working My Way Back to You and Donald G. Evans's An Off-White Christmas
Hosted by: Kelly Morgan
Appetizers, drinks, and stories from 7-10 p.m.
Tuesday, September 18, 4 pm EST Interview with James Lowe, Host of "The Voice of the People" Syndicated to 28 stations.

Thursday, September 20, Rachel's Restaurant, 6-8 pm. Working My Way Back To Me, Book Launch.  Seating limited.  RSVP:  aprilofcourse@gmail.com

Wednesday, September 26, 6 pm interview with Ken Brown, Host of "Hey Neighbor, KSVY 91.3 FM, Sonoma Valley, CA