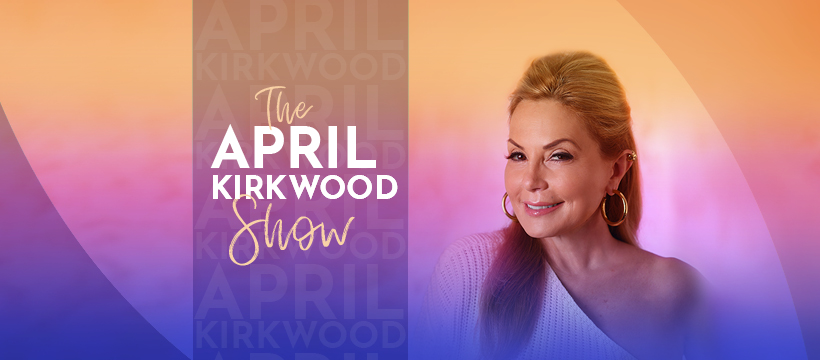 We're all so exhausted and filled with anxiety running like rabbits trying to find ourselves. We look for approval and joy everywhere but find nothing that lasts. This is a new show that will help you find parts of yourself that is split off, disavowed, sundown, unwanted, cast off and exiled through the lies of our ego via our consciousness.
Join me each week to find your best friend, your soul. It's the most important relationship you'll ever have. You can subscribe to the podcast for free on two platforms!
Episode 1: The Most Important Journey of Your Life
As you listen to the first episode, pray this simply powerful declaration of your willingness to find your worth.
Dear Source,
Bridge the gap between the loved I needed and the love I received.
I'm willing to see this differently.
So it is.

Join the conversation!
Don't miss the FIRST episode of The April Kirkwood Show!
---
Episode 2: Do You Have a Soul?
Our talk in episode two is an invitation for your physical self to investigate and know more about your spiritual self. The most important relationship you will ever have is the one with your soul.
Practice exercise at the end of the podcast episode!
Tune in and subscribe on your favorite platform! Rate & review to help other's find The April Kirkwood Show.
---
Episode 3: Why Souls Reincarnate
Seriously, why would anyone want to come back to earth?
Episode three of The April Kirkwood Show shares reasons why we come back and how to consciously live with more of your soul occupying your physical self. We also talk about spiritual parenting and a weekly exercise to make sure you start off each morning soulfully.
Feel free to copy this and share it. We are going through some really tough times and it's midnight. We must raise our vibrations to heal the planet. We haven't a minute to spare.
---
Episode 4: What it Means to be Spiritually Awake!
As we travel this life we begin to see that there is more to both ourselves and our existence. As a life learner, we often hear that spirituality begins with being aware. But what does that mean? What does it look like and how can you find it? Here are some thoughts so you can walk in light, consciousness, and awareness.
With love, April of Course
---
Episode 5: The Soulmates in Your Life
Did you ever meet someone and felt that you've known them your entire life? Well, you have met your soulmate. Listen and learn more about the five types of soulmates and how to recognize them.
Much love, April of Course
---
Episode 6: Why Your Twin Flame Runs Away
There is a love like no other. It is divine, raw, naked, and perfect. We know it because we each long for it.
So why doesn't our Twin Flame run into our home so we can live a life of love?
Research shows several possible reasons for this 'Olympic runner' behavior with Twin Flames. Listen to the five reasons why this blessed union hasn't happened for you and how to change that.

Much love, April of Course
---
Episode 7: What to do When Your Twin Flame Doesn't Want to be With You
You know you belong together but for some strange reason, they don't get it. Your Twin Flame happens to be a runner. It's breaking your heart and you need help. Here are some valuable tips to help you heal both yourself and find peace.
1. How do you handle the rejection?
2. Why is this happening?
3. What do you do when it's never going to happen for you in this lifetime?
Much love, April of Course
---
Episode 8: Is Karma ruining your life?
Hi Souls:
We've all said it, "Karma is going to get you." In truth, we have the notion that karma is bad and don't want any part of it. It's time to get to why you are here and what to do about it.  I know, everyone hates to discuss Karma but it's a fact of your life on this planet.  Listen while we discuss:
1. What is Karma
2. The three types of Karma
3. The Idea of "Grace:
4. How to deal with Karma.
And more!
Love always, April
---
Have a question for April? Want to suggest something for the show?
Fill out the form below and we will contact you shortly!
Instagram: @aprilofcourse
Twitter: @aprilofcourse